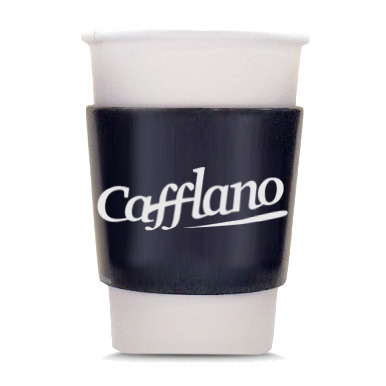 Janddi Sleeve is the world's first high quality cup sleeve that provides both heat and cold insulation. Its durable interior/exterior does not form any condensation, and it is an innovative cup sleeve that is capable of providing Brand and/or EVENT Promotions through its diverse designs. It is an excellent cost-effective product that offers high quality at low unit costs.
Janddi Sleeve Benefit?
1. Significantly low heat transfer compared to existing cup sleeves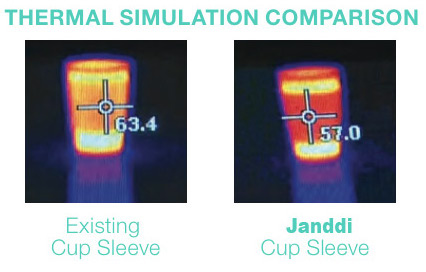 Coffee brewing temperature is approximately 80~90°C, and ordinary cup sleeves have a large contact surface between the cup and the sleeve, which makes its surface temperature generally high at 60~70°C. On the other hand, Janddi Sleeve minimizes the direct contact surface between the cup and the sleeve to reduce the rate of heat transfer. Janddi Sleeve maintains the surface temperature at approximately 57°C to eliminate the disadvantage of ordinary cup sleeves that leave cups hot to the touch, even with the sleeve on.
2. Excellent heat/cold insulation effect compared to existing sleeves
The tight contact between the cup and sleeve provides a cavity to help maintain the temperature of hot and cold beverages for a comparably longer period.
3. Designed using materials adequate for both cold and hot beverages
Existing cardboard/paper cup holders are developed for hot beverages. When used on iced beverage cups, cardboard and paper cup sleeves are susceptible to humidity, and the sleeve becomes wet due to the temperature difference between the cup and air, or the adhesive joint becomes loose. On the other hand, Janddi Sleeve is designed using materials that are resistant to humidity. It is great for both cold and hot beverages.
4. Available for PROMOTIONAL use through diverse design application
Existing sleeves are made of cardboard + paper, which poses limitations for applying designs or expressing contents because it is difficult to print full color. Also, when additional processing such as color prints or coating, the cardboard becomes compressed and it decreases the heat insulation and humidity resistance effects of the sleeve.On the other hand, prints can be applied on both the interior and the exterior of the Janddi Sleeve.
Possible Implementation
Full color design can also be applied for printing contents and images for various Promotional and Advertising Sponsorship event purpose (Movie, Concert, various events) to maximize its usability and profitability.
Furthermore, over
10 designs can be applied
and
produced
for each production inquiry for promotional, seasonal, advertisement, and various other contents expression.
5. Snug fit between cup and sleeve
Janddi Sleeve is designed so that the bottom rolled-in edge of the sleeve comes in full contact with the cup for a snug fit to improve mobility. Problems of dropping your hot beverage cup, or spilling your beverage on your hand due to existing loose cup sleeves were put in to consideration for the design.
What if you can do all these with our simple sleeve?
Keep Same or Lower budget from making current Paper sleeve
Hot Beverage: Preserve heat and not hot to the touch
Cold Beverage: Preserve ice (chill) without getting wet
Use as Full

C

o

l

o

u

r

e

d

 advertisement
Top/Bottom Rolled-in Edge provides Cavity for Less Heat / Less chill Transfer from the hot cup surface
Manufacturing in Toronto Ontario. We are supplying coffee franchises in North America
Problems of Current Paper sleeve
Limited Colour print
Cannot hold longer on Hot or Cold/Wet beverage cup
Too much heat transfer from cup surface (Normally 60~69 degree on sleeve surface)
Sleeve 3D Design
Final product of new innovation in sleeve industry